Submission Guidelines for CARICON 2024 Poetry Collection "FUTURE"
WHAT: CARICON will publish its first yearly collection of poems based on the conference theme each year. This year collection will be published under the title : "Future" 
WHEN: CARICON accepts submissions in all genres now thru Nov 15 2023.  After making a submission, please do not send us another unless requested.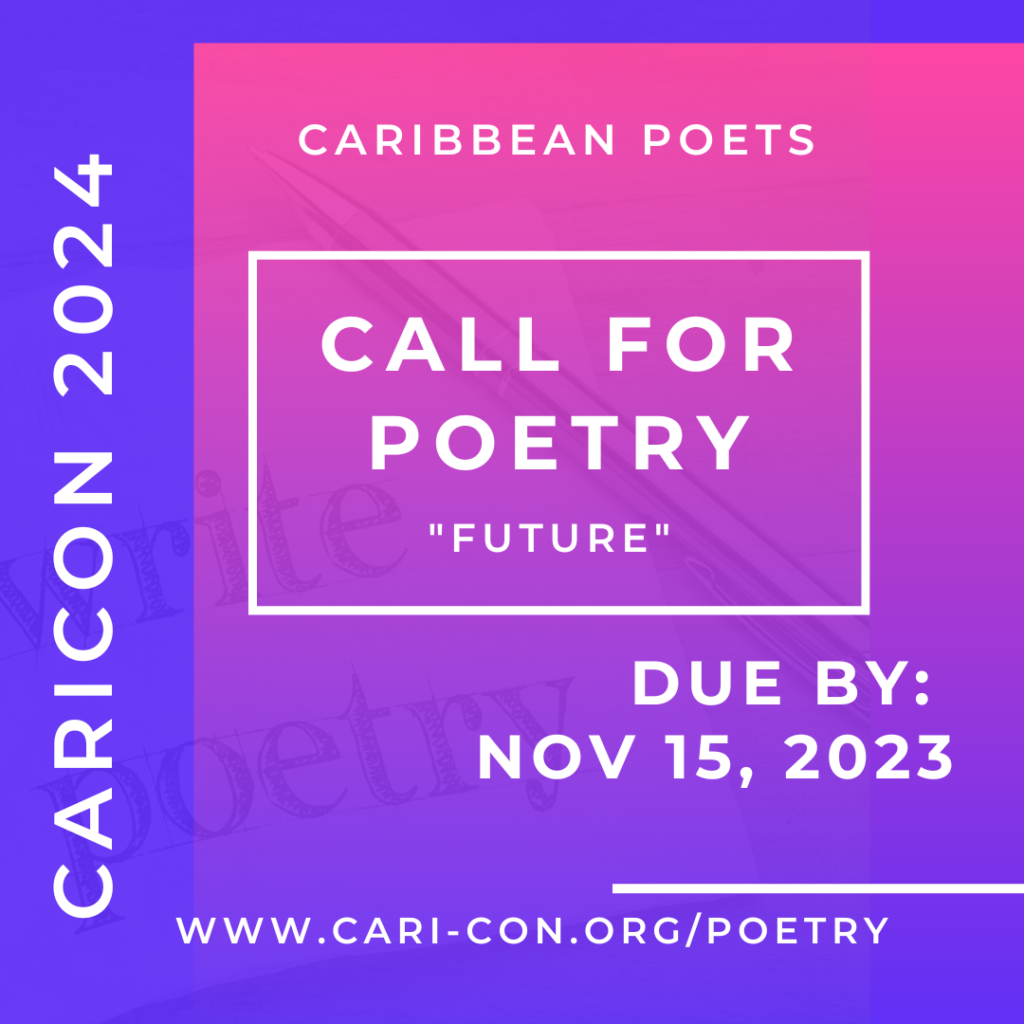 HOW – POETRY:
Each submission should contain no more than:

1-3 poems or 1 long poem, metrical (rhymed or unrhymed), 

All submitted pieces must be original and unpublished (no reprints).

Submit all poems in one file.

List titles of all pieces submitted in the "Title(s)" field of the submission form.

Include a 100 -150 words biographical note in the "Brief Bio" field.

Do not submit more than once  

PLEASE SUBMIT USING OUR

ONLINE SUBMISSION FORM

.

 We do not accept email or snail mail submissions. If you have trouble with the online form, email us at

submissions@cari-con.org

  using the subject line SUBMISSION HELP.

To query or withdraw, email

submissions@cari-con.org

  using the subject line QUERY or WITHDRAWAL.
More details—POETRY:
Submit one to three metrical poems (or one long poem), rhymed or unrhymed. 

(A poem of more than 40 lines is considered a "long" poem.)

All types of formal poetry are welcome, from traditional to boundary-pushing.  We want well-crafted poems that use meter skillfully and imaginatively (with rhyme or not), in a contemporary idiom that reads as naturally as free verse.

Poems will only be accepted in the 4 language groups – English, Spanish, French and Dutch. For a poetry translation, the poem in its original language must be included unless the omission is by special arrangement. Optionally, you may also include a literal translation of the original poem.

CARICON

also welcomes humorous or light poetry.

We publish new voices as well as established ones. We read everything. Send your best!
OTHER INFORMATION :
CARICON

acquires first-time electronic and/or print publication rights. We also reserve the right to republish the item in a future electronic and/or print anthology. Back issues are archived indefinitely. All other rights revert to the author six months after publication. In case of republication we ask that you acknowledge CARICON as the original place of publication.

CARICON 

is a not-for-profit publication. Compensation for contributors consists of one complimentary copy of the issue in which their work appears.